Cook, taste and explore with me.
Join Joanne Weir for her new cooking series airing on television nationwide and for a culinary journey through some of the most flavorful destinations in the world!  From Tuscany to Provence, La Rioja to Venice, and Morocco to Greece, you'll learn from her vast knowledge of food and wine while enjoying luxurious accommodations.  Each trip is filled with cooking classes and visits to Joanne's favorite markets, artisans and vineyards...all designed for an unforgettable experience. Want to experience wine country cooking at it's best?  Joanne also teaches hands-on cooking classes in her San Francisco, California kitchen studio.
Amazing recipes, cooking classes and culinary journey updates. Subscribe today!
Tweets by @ChefJoanneWeir
Just imagine- sitting on your private veranda, chilled glass of white wine in hand, gazing out at the azure blue Adriatic Sea and dreaming about what we will cook together for dinner.
---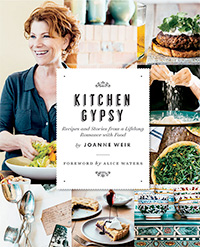 My life with food has taken me on adventures near and far and I'm thrilled to have the chance to share these deeply personal stories—and delicious recipes—with you.